Posted by Port Plastics on Oct 13th 2023
Formulations specifically for the oil and gas industry.
Ensinger Special Polymers offers several different VICTREX® PEEK blends and has the capability to blend custom compounds that align with your application. Typical fillers are glass fiber and carbon fiber, graphite, moly and PTFE. Both XP98, HT XP98, Peek blends are compression molded resulting in lower amounts of scrap, uniform physical properties and reduced molded-in stresses.
Tested lot material is available from Ensinger Special Polymers upon request best-in-class Quality Inspection methods are applied to ensure superior quality and performance. Both TECAPEEK CM XP98 & HT XP98 are high-performance engineered thermoplastic.
These semi-crystalline materials have a balance of mechanical properties, chemical and steam resistance, excellent dimensional stability, superior wear properties and processability which makes it unique for critical applications.
Both compounds having good chemical resistance which makes them suitable for critical bearing and labyrinth seal applications in contact with sour gas and other corrosives. A great choice for metal replacements due to pitting, galling, and increasing MTBF.
MAIN FEATURES
Broad chemical resistance
Good heat deflection temperature
Inherent flame resistance
Hydrolysis and superheated steam resistant
High stiffness
High creep resistant
Excellent dimensional stability
Resistance against high energy radiation
TARGETED MARKETS
Aircraft and Aerospace technology
Automotive industry
Conveyor technology
Oil and Gas industry
Centrifugal Compressors
Chemical/Petro-Chemical plant engineering
Using polymers increases the throughput. Of natural gas and methane
Within the turbo compressor industry, machined aluminum seals were commonly used, however, machined polymer seals have begun to replace the metal seals due to efficiency, ease of installation, and removal, including increasing dynamic operation of Centrifugal equipment.
In pumps, machined metal bushings, wear rings, guide rings, and other components can be improved by replacing them with engineered polymers to improve day-to-day operation and efficiency.
Look to Ensinger Special Polymers as your provider of consistent high-quality compression molded stock shapes of engineering thermoplastics for critical and non-critical applications in various markets.
Ensinger Special Polymers is committed to researching and developing new processes for new polymers and applications widely used throughout the Energy market.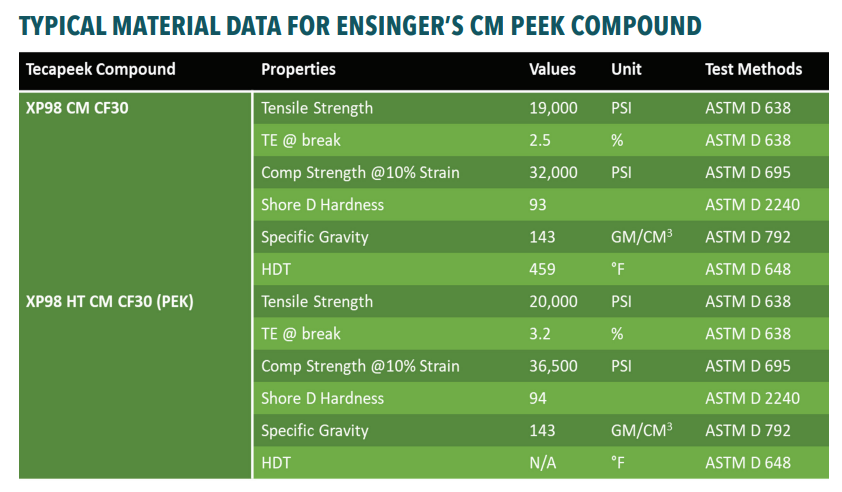 Download As PDF