Wet Process
Wet Process Tools and Wet Bench applications have one major factor in common, they operate in wet environments. As the chip miniaturizes and throughput increases, more and more harsh chemical solutions are being used. Metals are limited in these applications as they would corrode and potentially contaminate the wafer during processing.
Wet Process Tools include but are not limited to FEOL and BEOL clean tools, wet etch tool, strip tools, ECD tools as well as the wet benches used in lab settings. Plastic applications for wet process tools are often characterized either wafer component applications or structural applications. Though the property requirements are similar, the plastic materials used for these two segments are often different due to the shape of the material required.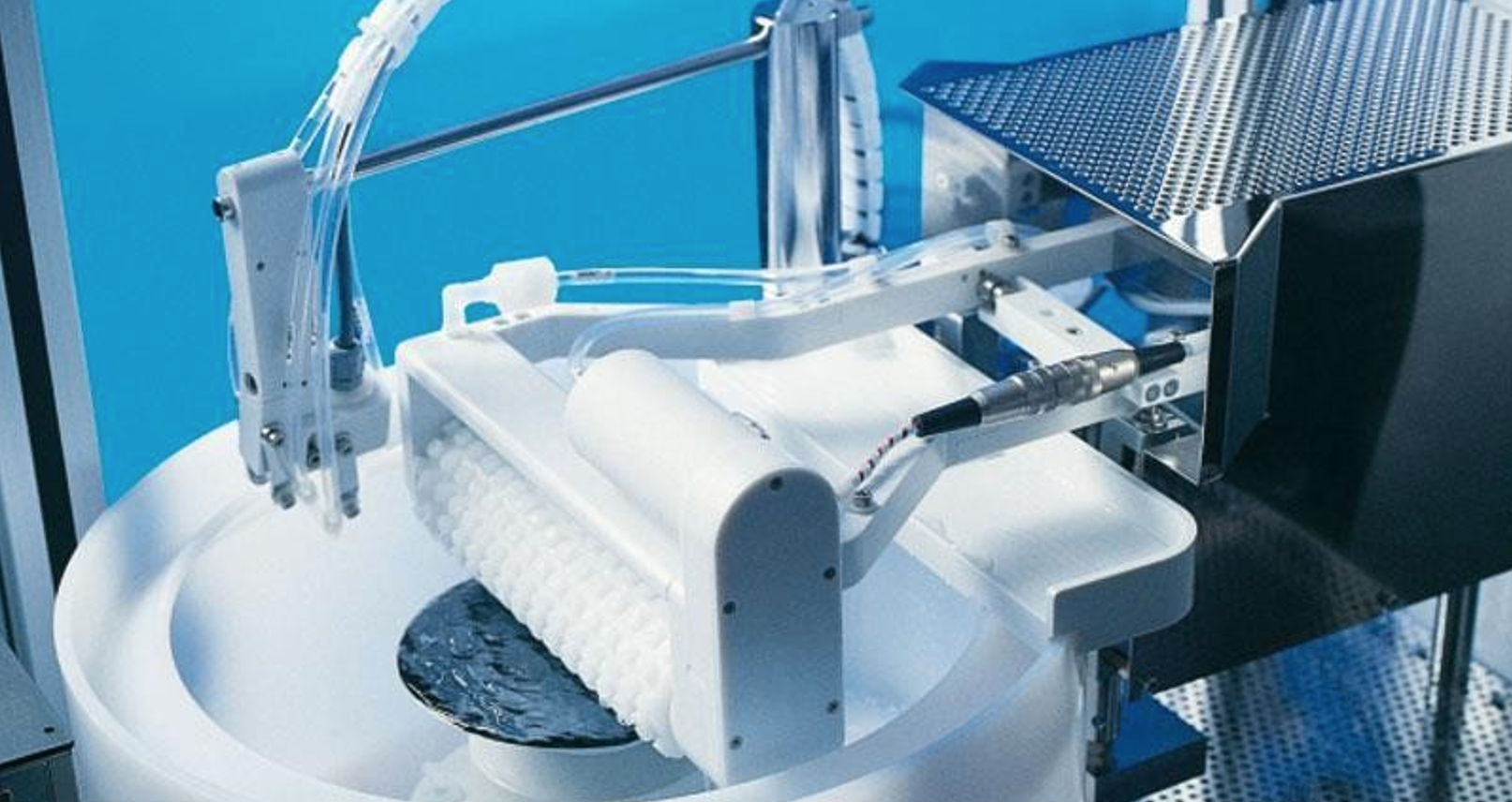 Wafer Component Applications ​
These applications are often critical precision machined parts that are used to move, secure the wafer or are in close proximity to the wafer during processing within the chamber. These materials most often operate close to room temperature and are chosen based on:​ ​
Chemical or pH resistance​
Dimensional stability and tight tolerance machining capability​
Purity​
Typical applications:​
Spin discs or wafer chucks​
Wafer grabbers​
Shower heads​
Wafer motion gears​ ​
Common materials used in wafer component applications:​ ​
PEEK​
PET​
Polypropylene​
Fluoropolymers such as PTFE, PCTFE, PFA​
PPS​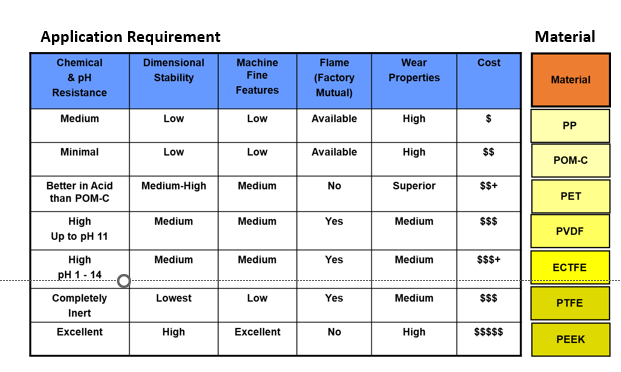 Wet Process Structural Applications​ ​
These applications are characterized as the plastic products used to fabricate the structural portion of the equipment or bench. These applications primarily use sheet products selected for their unique requirements. These materials most often operate close to room temperature and are chosen based on:​ ​
FM4910 or a suitable flammability rating​
Chemical resistance​
Purity​
Flatness and Weldability​
Consistency of color​
Typical applications are:​ ​
Chamber walls & linings​
Wet bench structures​
Tanks & bezels​
Chamber structures​ ​
Common materials include:​ ​
Polypropylene​
PVC and CPVC​
Fluoropolymers such as PVDF, ECTFE, PFA​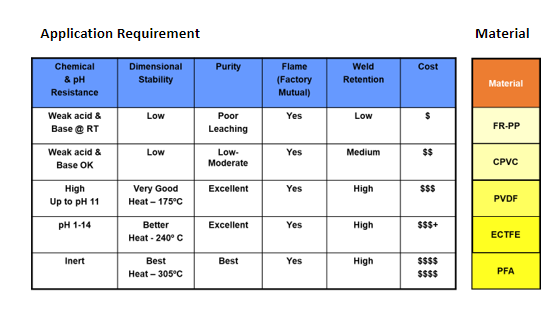 Chemical Resistance in Wet Process​ ​
Critical to proper material selection for wet process applications is projecting how your part will perform within the chemistry found in the specific process tool environment. Though it is impossible to adequately cover the entire chemical resistance potentials in one chart the following covers the most common reagents that come in contact with plastic parts in wet process chambers. If your application requires a specific reagent, chances are we have data to support your material optimization. Other factors need to be considered in material selection such as temperature and concentration.