Meat, Poultry, & Fish
Food Processors are taking decisive action to save money, reduce energy consumption, minimize downtime, and reduce physical labor, all while improving operational efficiencies across a wide range of production equipment. To meet these trends, equipment OEMs must develop multi-purpose, efficient, and economical machines focused on maximizing production. These initiatives must not negatively affect product hygiene, quality, or reliability.
Recent changes to current process environments introduce variables such as increased heat, elevated friction, and more aggressive chemistries that push the limits of traditional materials. The usage of metals for moving components should be limited as they are prone to wear and corrosion, which can potentially contaminate the food stream. Plastics are not only cost-effective but also reduce downtime, lower energy costs, are impervious to sanitization chemicals, and minimize the risk of metal contamination.
Meat Processing Component Applications ​
Proper material selection for moving components used to slice, grind, mix, or move meat during processing is critical for equipment performance. System components are exposed to aggressive environments and are selected based o​​
Regulatory ​
Chemical or pH resistance​
Dimensional stability and tight tolerance machining capability​
Heat Resistance ​
Wear Resistance ​
Detection
Typical Applications: ​​
Grinding ​
Cutting ​
Mixing Tenderizing ​
Deskinning ​​
Common materials used in meat processing components:​​
Polypropylene  ​
HDPE​
UHMW-PE ​
Nylon Grades ​
Acetal / Delrin / POM ​
Fluoropolymer  PTFE​
PET ​
Tubing 
Application Requirements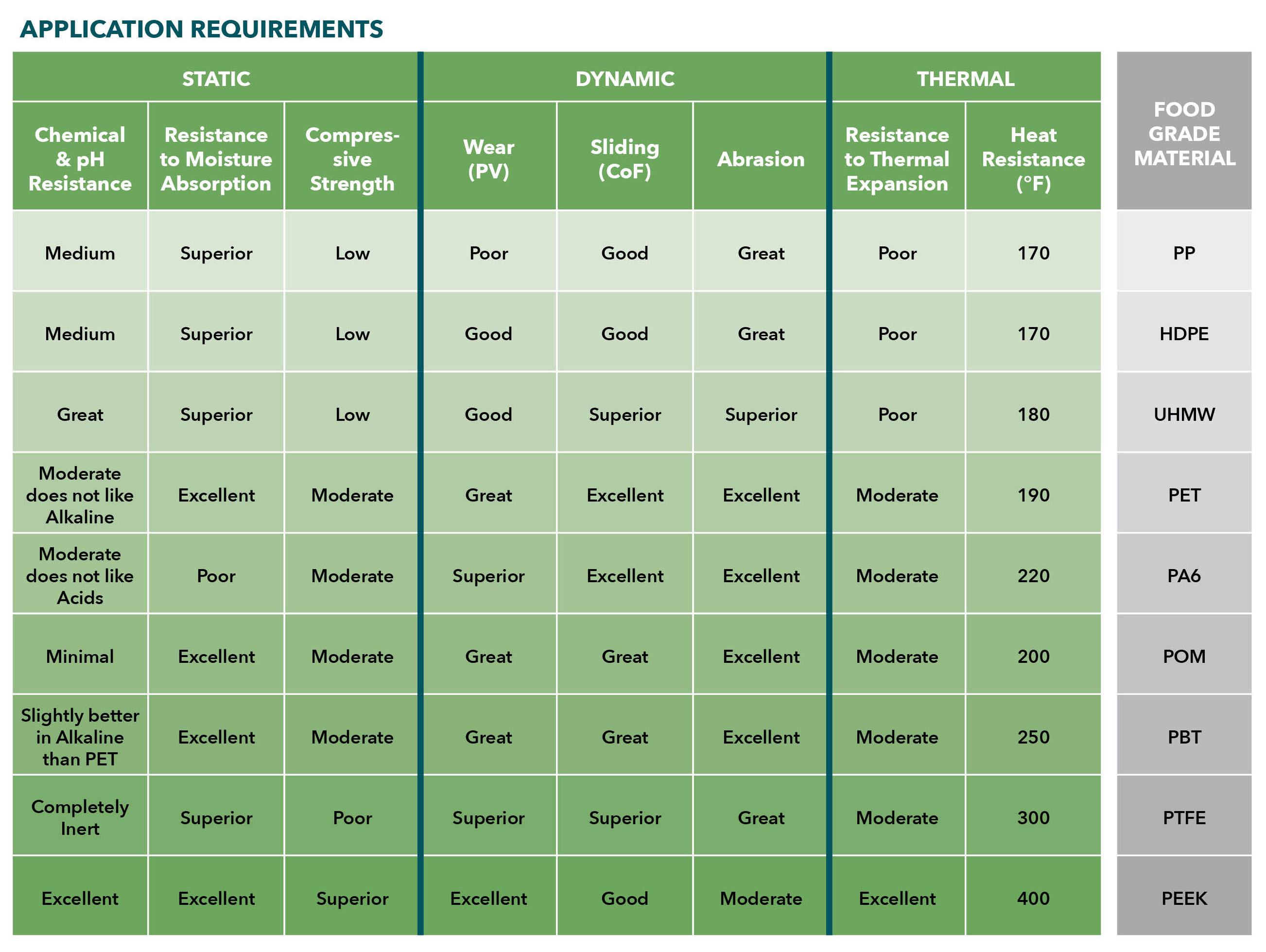 Resistance to Sanitization Wash Down 
Critical to proper material selection is projecting how components will perform with repeat exposure to sanitizing chemicals used to disinfect the process equipment.  Designing components using Food Grade compliant thermoplastics provides the benefit of better corrosion resistance compared to metals with the added benefit of lightweight and excellent sliding properties. However not all plastics are created equal, thus it is important to understand how plastics will react when exposed to aggressive chemistries or foods with varying pH levels​​
The chart below compares the common thermoplastic materials used within Meat, Fish, and Poultry processing  equipment with the intent to provide a general guideline for how various plastics will stand up to aggressive and corrosive sanitizing chemicals. 
The concentration of chemistry, frequency of exposure, surface finish, pressure, and temperature factor into the the parts overall performance and life. Though it is impossible to adequately cover the entire Food materials portfolio in one chart it highlights the more common materials used for parts in direct food contact. If your application requires a specific material contact us for suggestions.